Kom jij ook zaalvoetballen bij de leukste studenten sportvereniging van Eindhoven? Voor iedereen is er plek bij Totelos, van beginner tot ervaren zaalvoetballer! Naast zaalvoetballen worden er ook genoeg andere activiteiten georganiseerd, denk aan borrels en niet voetbal gerelateerde activiteiten zoals lasergamen, casino night of een huizentocht.
Enthousiast geworden, en wil je kijken of Totelos iets voor jou is? Stuur dan even een mailtje naar bestuur@totelos.nl en kom een keer meetrainen. Hopelijk zien we je binnenkort!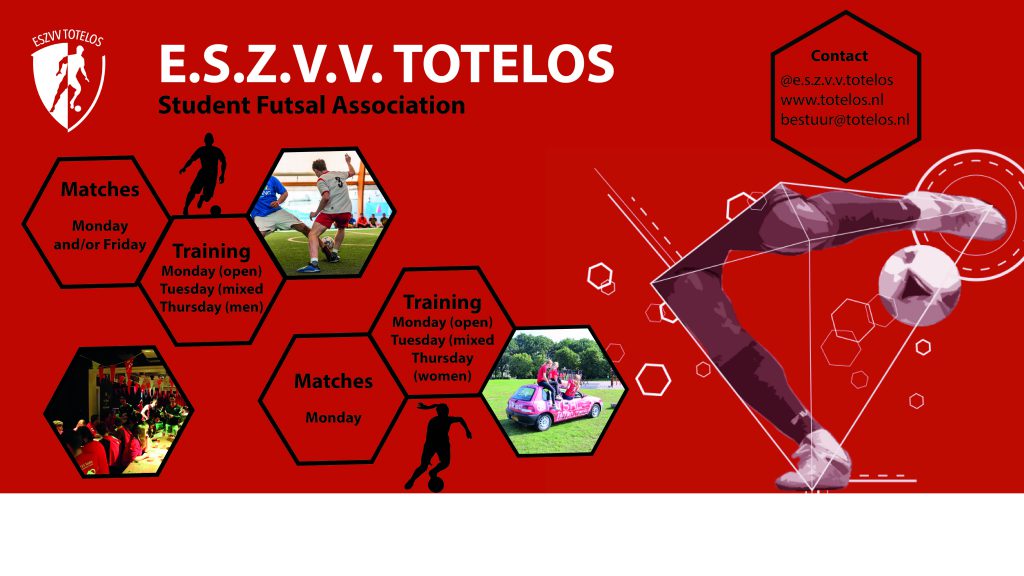 English
Do you want to play futsal at the nicest student sports association in Eindhoven? Totelos has a place for everyone, from beginner to experienced futsal player! In addition to indoor football, plenty of other activities are organised, such as drinks and non-football related activities such as lasergaming, a casino night or a housecrawl.
Getting excited, and want to see if Totelos is something for you? Send an email to bestuur@totelos.nl and visit one of the trainings. Hopefully we'll see you soon!